:: Alfa 155. A slender, aggressive line enhanced by a range of new original trims - for refinement or sportiness - to ensure you enjoy your car to the full in unique, inimitable style. The power of a constantly generous power unit, in seven engine sizes producing an output ranging from 90 to 186 bhp with top speeds between 180 and 225 km/h. The excellent engines are a credit to Alfa Romeo in terms of performance and technology. Take, for example, the new generation 16 valve Twin Spark units, with twin ignition and variable valve timing. Widened tracks and wheelarches. Power steering. Independent suspension with front and rear anti-roll bar. Reinforced bodyshell. Non-deformable cabin. Laterally strengthened doors. Fire Prevention System with inertia switch and twin fuel flow stop valve. Electronic, anti-theft key incorporating "Alfa Code" engine immobiliser. Airbag and ABS on request.

:: The Alfa 155 is living proof of Alfa Romeo's phenomenal success on the world's racing circuits. Advanced technology and a passion for motoring combine to offer the thrill of driving an Alfa Romeo, a car born to win, under normal driving conditions. Alfa 155: the pleasure of driving Alfa Romeo.



:: ALFA 155 T.SPARK 1.6 16V. If you want to step up into the exclusive world of the Alfa 155 the 1.6 16v Twin Spark engine represents the first rung of the ladder. Powered by the all-new, 16-valve, 1598 cc engine with 4 cylinders in line, twin ignition and variable valve timing, it is part of the latest generation of engines to be designed and built by Alfa Romeo. The 120 bhp engine is capable of delivering an elastic, top level performance. 195 km/h with 90% of torque available at just 2500 rpm. The design of the new Twin Spark engines makes for silent, comfortable and reliable cars requiring only limited maintenance. It is available in the Standard trim, offering both elegance and practicality, with upholstery in a speckled fabric and facia in one colour.

:: ALFA 155 TD, combines the pleasure of driving a hot-blooded sports car with particularly low running costs. The 1930 cc turbocharged diesel engine develops a maximum output of 90 bhp and torque values that top the "2 litre" class. Coupled with an optimum weight/power ratio, these features translate into low consumption and impeccable performance levels: 180 km/h and from 0 to 100 km/h in 13.5 seconds. The Standard version comes complete with a speckled cloth interior and one-colour facia.



:: ALFA 155 T.SPARK 1.8 16V engine is fitted with the new 1747 cc, 16 valve engine with 4 cylinders in line, twin ignition and variable valve timing: 140 bhp-EC, 205 km/h, accelerating from 0 to 100 km/h in a breathtaking 10 seconds; it is one of the most interesting engines in its class. Alfa Romeo technology used to develop the new Twin Spark 16 valve engines, has achieved particularly high performance levels normally associated in today's market with much larger engines. And it drives smoothly and quietly into the bargain. It is available in two different trim levels: L and S. The L version provides the perfect blend of elegance, sportiness and comfort. The facia is in black and grey, the interior upholstery is in quality velour, the front and rear seats incorporate armrests. The S version reflects the 155's sporty spirit: ground-huggin set-up, 15" alloy wheels, fully painted bumpers, sporty cloth interior, leather steering wheel and gear knob. A sports kit is available on request.



:: ALFA 155 T.SPARK 2.0 16V. The 2.0 16V model is fitted with a 1970 cc engine with 4 cylinders in line, twin ignition and variable valve timing. Technologically speaking, this engine is streets ahead of it competitors in the 2-litre category. The steel crankshaft with 8 counter-weights and torsional damper gives the ultimate in engine balance and quietness at all speeds. Hydraulic tappets, platinum spark plugs and toothed timing belts with automatic tensioning guarantee 100,000 km of maintenance-free driving. All these features bear witness to the technological supremacy of a fast, powerful saloon: 150 bhp-EC, from 0 to 100 km/h in just 9 seconds, 210 km/h. Available in the Super version, this car has earned a well-deserved place amongst great Alfa Romeo saloons. The interior is upholstered in refined velour. The facia is in black and grey. Fine wood features extensively in this classy cabin, from the steering wheel and gear knob, to the facia panel and electric window controls which are made using "deep print" technology. The S version is designed to show off the car's sporty vocation: the car is low off the ground and comes complete with 15" wheels, fully painted bumpers, sporty cloth interior trim, leather steering wheel and gear knob. A sports kit is available on request.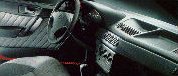 :: ALFA 155 TD 2.5. The TD 2.5 is the most brilliant, best performing Diesel in its class. The powerful 2500 cc engine with four cylinders in line represents Alfa Romeo's interpretation of what a diesel engine should be. The cylinder head with double turbulence pre-combustion chamber, pre-heater plug and innovative Turbotronic integrated electronic management system for the injection pump and EGR valve, are some of the most significant technical details of this outstanding engine. 195 km/h, 125 bhp-EC and employing just 10.4 seconds to go from 0 to 100 km/h: in typically Alfa Romeo style which means sportiness, comfort and a memorable driving experience.

:: ALFA 155 V6. The V6 is a truly superior saloon. The engine has 6 cylinders arranged in a "V" configuration and built entirely of light alloy to provide the ideal compromise between top performance and a high level of elasticity. Performance is exhilarating: with 163 bhp-EC, the car shoots from 0 to 100 km/h in a mere 8.4 seconds and reaches a top speed of 215 km/h. Available in the S version with sports kit available on request.



:: ALFA 155 CLOVERLEAF 4. The Q4 is the best performer and most aggressive model in the 155 line-up. It is fitted with a 1995 cc, 16 valve, turbo-driven engine which delivers 186 bhp. Performance is truly remarkable: 225 km/h and 7 seconds to go from 0 to 100 km/h. The turbocharged engine is run by a digitally-controlled system that employs a Garrett T3 turbocharger complete with intercooler, guaranteeing incredible responsiveness during acceleration. The engine's extraordinary qualities are fully expressed by the technology used for the permanent 4-wheel drive unit which uses a system with three differentials. This is the same technology that is responsible for the 155's outstanding record of success on the racing circuits of Europe. The Q4 is supplied in the S version with the sports kit supplied as standard.

| | | | | | |
| --- | --- | --- | --- | --- | --- |
| Type / Modelyear | 1993 | 1994 | 1995 | 1996 | 1997 |
| 1.6 TS 16V | | | | | |
| 1.7 TS | | | | | |
| 1.8 TS | | | | | |
| 1.8 TS 16V | | | | | |
| 2.0 TS | | | | | |
| 2.0 TS 16V | | | | | |
| 2.5 V6 | | | | | |
| 2.0 Q4 | | | | | |
| 2.0 TD | | | | | |
| 2.5 TD | | | | | |