Alfa Romeo originally listed Golden Lodge 2HL plugs (p/n 60512929) for the ES30, but this was superseded in September 2006 for p/n 71736278, which is a Champion plug (14NC or 04NE, depending where you look).
Whilst the Champion plugs are supplied by Alfa Romeo they have received mixed reviews, with many preferring NGK plugs. However, researching equivalents for the GL 2HL plugs has been very frustrating, with most sites listing totally different plugs, all very confusing (see below)!
But, if you look hard enough, it is still possible to buy the original GL 2HL plugs with their four electrodes for around a fiver each.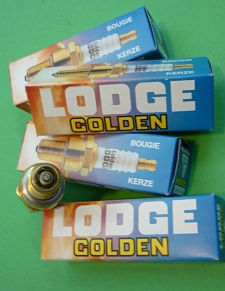 Some other plugs that are listed for SZs.
(Please note, these are not recommendations!)
| | | | | |
| --- | --- | --- | --- | --- |
| Golden Lodge | Champion | Bosch | Denso | NGK |
| 2HL | RN9YC | | W20EPRU | PGR6A |
| | 14NC | | W20EPRU-ZU | BP7ES |
| | | | IW20 | B7ES |
| | | | VW20 | BPR6EIX |